In my opinion EVERY GIRL who is a girly girl should have (if not already) at least one pair of ruby red Dorothy shoes from the wizard of oz. This just screams fun and sexy, not to mention an eye catcher! The shoes from the movie are out dated and quite frump looking, but new ones are coming out inspired by this film!
So, Major brand name designers, Betsy Jhonson (my idol ), jimmy choo, Christian Louboutin, Manolo Blahnik , and much much more are creating their own version of the iconic shoe to celebrate the 70th anniversary of the film! According to the newspaper "The New York Times" this is to raise money for an Aids foundation, and 2 pairs of each shoe will be auctioned off. So they will be exclusive and limited. I for one will never be able to afford something so rare, but i have already 2 pairs of my own :).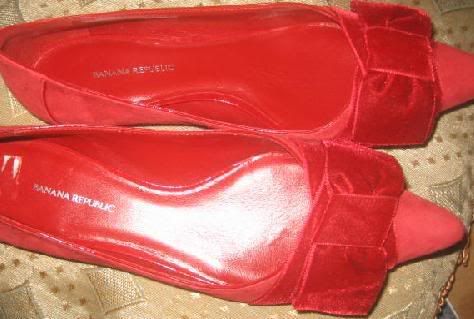 I have a pair in heels and flats. The first one is my favorite, it is a peep toe pump(so fifties!),and the picture is bad but there are rhinestones on the bow. So girly girls, go get yourself a pair!