EVERYTHING EQUESTRIAN!
this is a bit late since the equestrian style came up a while ago, but then again, I've always loved anything that has to do with horses, I just never thought to blog about it.
The riding top hat:
I love it, i love it!! Then again I love top hats period. Though, this one ( I found at an equestrian site) is the perfect top hat, It has a short top, so its more wearable than a tall top. The hat also has a curved brim, so its not to harsh, AND it had a friggin bow on the back, though in this pic, its not so visible. I can already imagine myself wearing it ( without the built in helmet of course). I would seriosuly wear it with every outfit, and not care that i get dirty stares, but this hat is over 150 bucks...sooo not so afordable. :(
The riding coat:
This coat looks sort of like a normal coat, but i feel it looks so much nicer than any reagular coat. The way if wraps on the body, and the length, the buttons, the sleeves, the color, the COLLAR! everything about it, I love. The waist looks so incredibly flattering, and the hem just perks a little, i love it!!
The riding boot: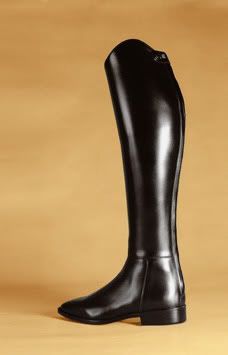 This is really the perfect boot to walk around in, Its flat and tall and the curve at the top is so understated pretty! needless to say, I'm in love.