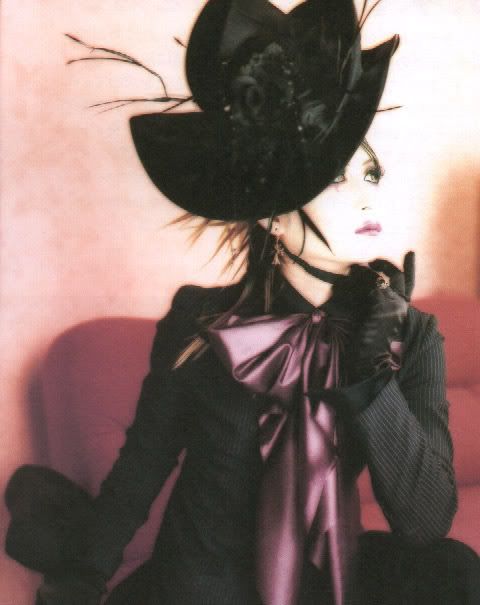 So, lately I've been fascinated by japanese culture, music, fashion for the most part, whether it has been a good reaction or bad. I dont intend to dress everyday like a goth-loli, which is another term for gothic lolita, but I cant look away, I'm fascinated! The slow bug like me just figured out this fashion a short while ago, as they have him a style since the 90's. Gothic lolita style has nothing to do with being the usual thought of a gloomy goth, but actually girls like to be "cute" instead. As they try to look like porcelin dolls, in their victorian/edwardian inspired clothes. I think I've been fascinated by this goth lolita look because the goth look is really in fashion right now for fall/winter, or maybe its the fact that the look is inspired by victorian/edwardian time periods, which I've always adored and envied since childhood.
That picture dipicted above is Mana sama and what looks like she is infact HE. I've been reading up on him, and as faschinating as his fashion is, his work is fascinating also. He is a guitarist of a band called Moi Dix Mois, the songwriter stylist of the band, and not only that he produces the music and he owns his own independent record label. While doing all that he doesnt speak, literally! He always has a speaker talk for him whenever he is interviewed, or in public, as I'm sure he DOES talk sometimes. though i digress..Mana has his own fashion label to boot all of what he already does. He creates his own gothic lolita fashion and gothic aristocrat which is the mens version. Did i say i was fascinated? I am.
Also i gotta say gothic lolitas totally beat sweet lolitas.